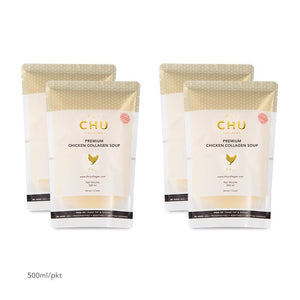 It's really very awesomely tasty!
My kids take it, cooked with noodles and other ingredients, at least once a week. That's why I subscribed to the monthly 2-Litre bundle. Sometimes it runs out so fast that I would get a pack from supermarket before the next bundle delivery.
Excellent Collagen Soup
Excellent collagen steamboat soup for our guests. They were surprised by the taste and quality of the soup.
Easy to prepare meal by Chu Collagen soup
My family loves Chu Collagen Chicken soup very much Previoysly i used lots of my time to boil chicken soup in order to cook noodle for our lunch . But now after I tried Chu Collagen chicken soup, it's more easy and fast. Furthermore it's very tasty and you will not find thirsty after you drank the chicken soup . I already bought many packets, include Laksa Soup, Japanese Teapot soup and prawn mee soup . Thumbs up ! 👍
Premium chicken collegen soup
The taste was very natural. Very good. I used it to cook my fish maw and shark fin soup.
Wholesome goodness!
Japanese noodles in a collagen broth! Makes me happy!
We have been getting this wonderful soup from Chu Collagen over the last 3 years. It has been a real hit with the fam bam and we have used the broth as a stock for our CNY Sharksfin Soup, congee and homemade ramen. It never fails to disappoint us and our guests. We have just finished our month's supply and look forward to the next delivery.
Yummy n fuss free!
Simple, easy, fast. Good for busy mothers or last minute meal plans!
Yummy Soups
My go to for chicken collagen soup and prawn soup. Helps me to whip up a quick soupy meal. Yummy, nutritious and handy. Good to stock up in fridge for any occasion be it to cook a simple meal for 2 or when guests come, as hotpot soup base. Great product
Comfort Food
Was feeling under the weather and this soup really hit the spot. Personally preferred adding some water to reduce the thickness, very kao but super shiok. Highly recommend, will repeat again :)
Thick and delicious soup!
It's very easy and convenient, you just have to pour the content in package and cook! Water can be added depending on your preference. I prefer not to add and the soup taste nice, smooth and thick! Overall is satisfied with the purchase! :)